To access the Licenses and User Admin from ESP Web, click on your avatar and then select Licenses and Users from the dropdown.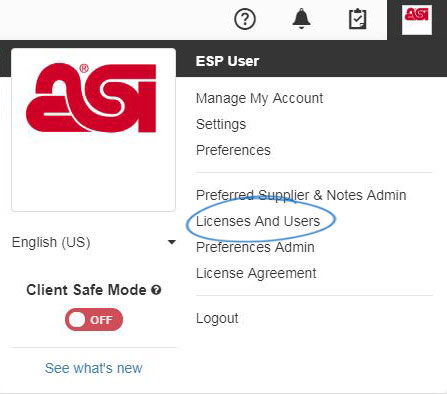 Clicking on the Manage button will open the Manage Licenses area for that product. This section can also be accessed by clck on the Manage Licenses button on the toolbar.

In the Manage Licenses section, you can view all current licensees for their company, as well as edit licensing information, assign or unassign licenses and export the license list.
On the left hand side there will be a list of all of the applications for your company.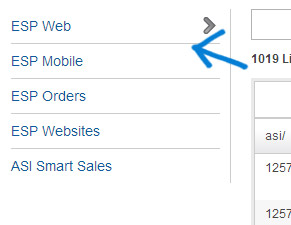 Clicking on the application name will open the license manager so that you can manage the licensing for that application.
At the top of the Manage Licenses section, there is a search function which is a partial match search of the Name, Username, and Email fields. Also, the headings in the Assign ESP Web Licenses area can be used to sort alphanumerically.

Under the last heading, Actions, there are two links: Edit and Unassign. Clicking on Edit will pop open the Edit License window.
In Edit License window, you can view the assigned application, license number, status, and start date.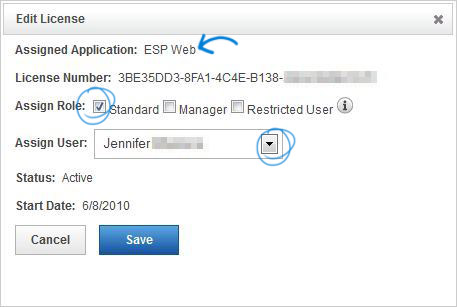 You can edit the user's role or use the dropdown assign this license to another user in your company. When you are finished making changes, click on the Save button.
If you click on the Unassign link, the license will be added to the Unassigned ESP Web Licenses area. The Unassign ESP Web Licenses area is located below the Export List options. Clicking on the Assign License link will open the Edit License window.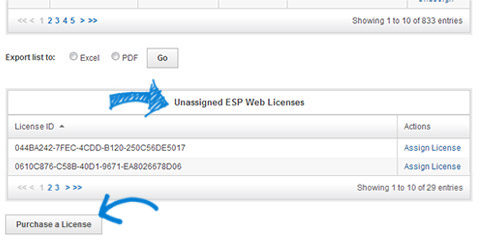 Directly below the Assign ESP Web Licenses area, there is the Exporting Options. You can export the Assign ESP Web License list as an Excel spreadsheet or as an Adobe PDF. Click the radio button for the option you would like to use and then click on Go.

If you are in need of an additional license, but none are available in the Unassigned ESP Web Licenses area, you can click on the Purchase a License button. An email will open for you to request an additional license be added to your account.